Discover Burien's awesome new Makerspace – 'THE BOX' – is now open
Located in the basement of the local business non-profit's office building in downtown Burien, this is a brand new workshop for Discover Burien members to 'do-it-yourself' and make stuff, from 3D printing to laser and vinyl cutting to podcasts and much more, using the latest technologies.
"The space is yours to create, build, design and dream," organizers said.
For more info or to book a tour, email Makerspace Manager Mitchell Allen at discovermakers@gmail.com.
More Topics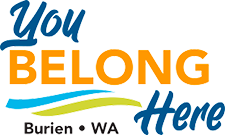 The City of Burien announced that it has had its bond rating upgraded to its highest level yet – from "Aa2" to "Aa1" – after a credit opinion issued on August 24, 2021 by Moody's Investor Services. "The Aa1 rating shows that our city government is well-managed and has...