Hotels
The City of Burien is actively seeking hotel development. With one of the most walkable cities in the region, a hotel would benefit from being able to offer their guests access to downtown shops and restaurants, local events and waterfront parks. Burien is also 20-minutes from downtown Seattle, opening the door to endless entertainment opportunities. 
Open your hotel 5-minutes from Seattle - Tacoma International Airport (SEA) with linkages to Seattle via public transportation. 
Burien is at the center of the region's transportation corridor and adjacent to SEA with immediate access to:
518: a highway that links directly to I-5 heading north/south and becomes I-405 heading east/west
509: a highway that offers direct access to the Port of Seattle and downtown Seattle (a 15-minute drive)
When combined with access to the regional light rail (from SEA) and a strong public transportation network, Burien is a central hub for anyone doing business in the region. Plus, Burien's walkable downtown, local breweries, and a thriving art and food scene make it a fun place to unwind and explore.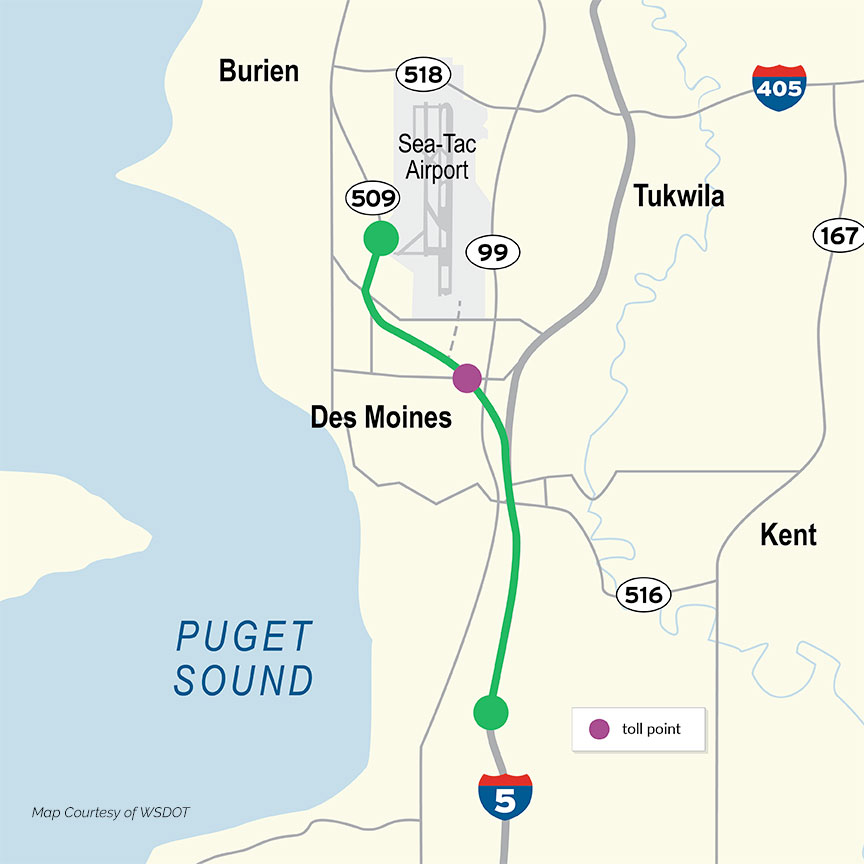 ---
"Burien can easily be described as the Pacific Northwest's quintessential hidden gem. Few cities in America can boast about having beachfront parks, a vibrant commercial district, access to two major state highways and a bundle of breweries, boutique shops, restaurants, and museums. Adjacent to SEA and its 50+ million passengers a year with a light rail line that connects Burien with SEA, downtown Seattle, the University of Washington, and soon Bellevue and Federal Way - the connectivity of Burien create endless opportunities for the hospitality sector. Burien has a magnetic quality that draws residents from the surrounding communities and has long been a secret getaway for Seattle residents that need a respite from their urban confines. With nearby cities welcoming more than 4 million visitors each year that generate $363 million in travel spending, Burien is on the verge of becoming the next must-see destination."
- Mark Everton, CEO, Seattle Southside Regional Tourism Authority  - SeaTac/Tukwila/Des Moines
Million Passengers Fly through SEA
More Affordable than Seattle
Minutes to Seattle-Tacoma International
The Demand is High & So Are the Opportunities
The demand for hotel space in Burien is the result of the immense travel volume occurring out of Seattle - Tacoma International Airport, combined with the overall growth of the Seattle MSA. People coming here for work or pleasure who want access to the city, without the inconvenience of high traffic and challenging parking, will find that Burien offers the best of both worlds. But, there are no hotels to service this need. The City is actively entertaining proposals from developers and a willing partner in making hotel developments work. The economic development team can help to identify potential properties, make the permitting process run smoothly, and do what it takes to find solutions. You Belong Here. Contact us today to bring your hotel project to Burien.
Burien is 5 minutes from Seattle - Tacoma International Airport, a major hub for national and international travel. The city's proximity and linkages via public transportation make it an ideal location for hotels and services directed toward travelers. In addition, 509 is being connected to I-5 (2028 completion date), which will make Burien part of the I-5 transportation corridor for the first time. Hotel developers who get in now may have a first-mover advantage in preparing to capture more of this traffic.