Businesses and Developers Are Succeeding in Burien
The City of Burien has a robust history of partnering with the private sector on new development. A new job center in Burien (NERA) resulted from the city government partnering with the Port of Seattle, and WSDOT to provide timely infrastructure investments that support the attraction of private sector development and over 750,000 square feet of new commercial space. The City took the lead on developing similar partnerships for mixed use development in the downtown, providing $9M in street investments to support downtown development. 
"Burien supports development so it eliminates the risky unknowns you may have when developing in other cities."
— Dan, Nitze-Stagen
News Articles
To Nancy Salguero McKay, Executive Director of the Highline Heritage Museum, having the museum be located in Burien made a lot of sense (The Highline area includes the cities of Burien, Normandy Park, SeaTac, and White Center). To her, Burien has always been a vibrant, dynamic town. "Burien is always evolving,...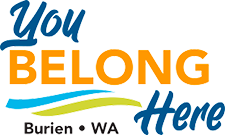 For 25 years, Michael Johnson has been straddling the fence between two industries - accounting and entertainment. Over the years, he has helped artists and musicians with bookkeeping, tax return filings, and other accounting needs. And he gets huge satisfaction in getting systems to perform as best as they can...